From Lefkimmi Port (app. 2 km drive):
Instructions: Exit the ferry and you go straight. When you reach the traffic lights you turn left. After app. 800 meters, on your first little road on the left, you turn. There is a sign "PARAKLADI BEACH" and "Nikis Street". You follow this little road and you go all right until you reach a black metallic gate. You just arrived at Sun `n Chill.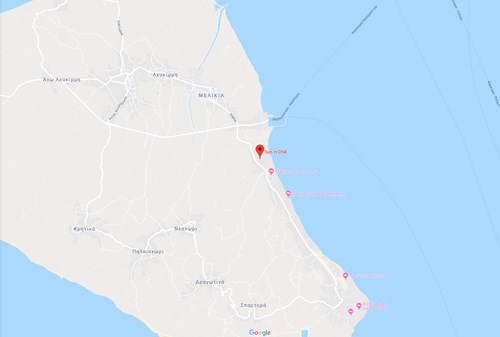 From the Airport:
Option 1. Taxi. The fastest. You will find the blue cabs, just outside the airport 24/7. You will tell them "Lefkimmi, close to the harbor, location Parakladi, direction Kavos". Knowing your approximate arrival time, somebody from us will wait for you on the main road to accompany you to your apartment and give you all instructions needed.
Cost app. 70-80 Euros
Duration: 50 min
We can arrange a cab waiting for you right after your arrival. Let us know.
Option 2. Rent-a-car and drive. Plenty of options on-line and off-line by the airport.
Cost per day starts from 40 Euros
Duration: 50-60 min
Option 3. Shuttle bus. There are different companies running this service from the airport. Try online the one called Hoppa or Lord Travel and book a transfer to "Agios Petros, Lefkimmi", its exactly next to us.
The price is approximately 10-20 Euros per passenger one way and the duration around 60 min.
Option 4. Public transport. It s the cheapest but maybe the least convenient since you need to get by taxi or bus from the airport to the central bus station in Corfu Town (app. 10 min) and then take a green bus for there heading to Kavos. You will need app. 80 min to reach our property (ask to stop at Parakladi or Agios Petros, Lefkimmi bus stop). The cost is 4-8 Euros per person and the frequency, depending on the period is every 1-3 hours. Visit Rome2Rio for more info.
If you reach the island through the Corfu Town harbor, all above options are still valid.